The play changed my mind about Shakespeare!
– Student, Mt. Vernon High School, Mt. Vernon, WA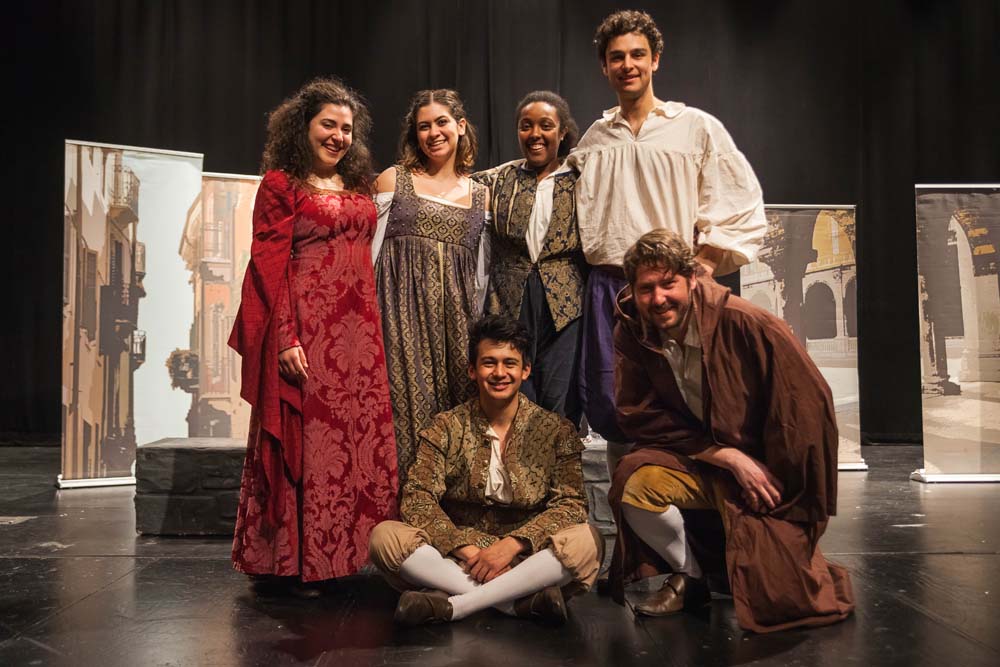 Six actors, two sets, several boxes of props, and a costume rack spend every spring in a van, on the road to schools across Washington with two 90-minute Shakespeare productions. The incredible actors use their minimal sets and beautiful costumes to bring Shakespeare's words to life for students who aren't able to travel to our home in Seattle. Our Renaissance Romeo and Juliet is a yearly staple, since the play is taught in most 9th grade classrooms in Washington, and the second show rotates each year to bring fresh, dynamic interpretations of the classics to communities spread far and wide. For the last four years, our second production has been a bilingual Spanish and English (translated by Ana María Campoy) performance. This multilingual text is a message to the large number of Spanish-speaking students in our state that classical theatre is for them!
For the 2020-2021 school year, we are unable to offer a traditional tour. Instead, we will offer video content featuring teaching artists and professional actors interpreting Shakespeare's text for students, paired with online sessions for students to engage live with the actors and teaching artists around their work. Stay tuned for more details!
"60% of our schools students cannot afford lunch, let alone spend money to see a professional theatre show. Almost every student was inspired by the play and dove into the reading the rest with a vigor I have not seen before."
– Teacher, Mt. Vernon High School, Mt. Vernon, WA
Pricing
The cost of a touring performance starts at $1,700 up to 400 students. Additional fees may apply for larger groups, travel, and accommodations.
Financial Assistance Available
Seattle Shakespeare Company can offer partial financial assistance to qualifying schools. For more information about applying for financial assistance, please call 206-733-8228 x 241.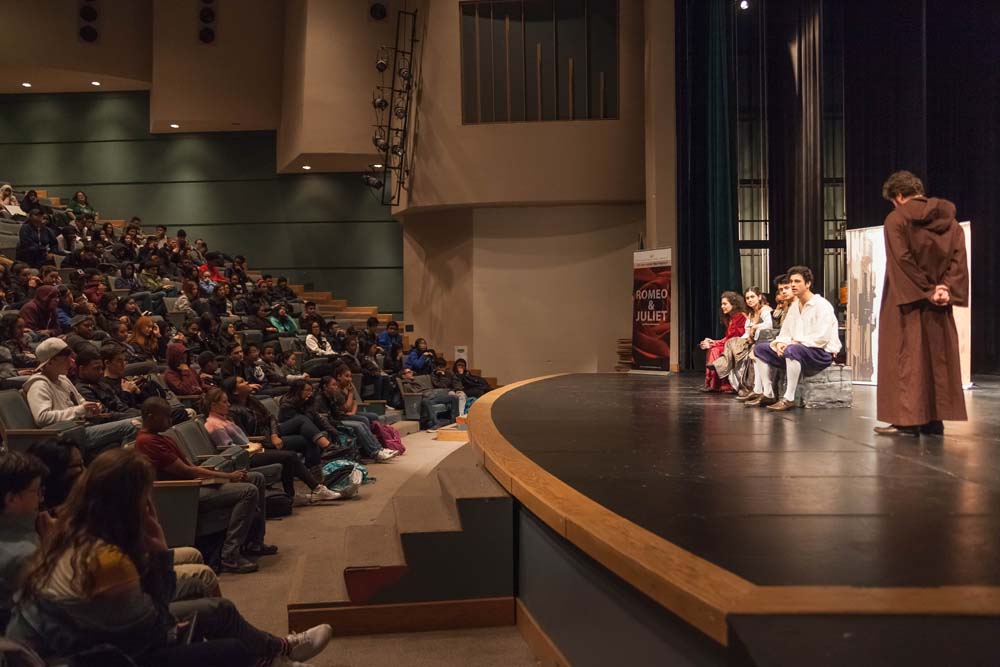 "I loved that the actors were of different races and genders.
Because of your group I am much more interested in Shakespeare"
-Student, Cascade High School, Everett, WA
In-Class Workshops
We offer a variety of workshops designed to fit our touring productions and tailored to work in the classroom. One-day to four-day workshops can be a great enrichment in addition to seeing the show.
Cost: $100 per teaching artist per hour. (One teaching artist can teach up to 30 students.)
Introduction to Shakespeare's Language
Have your students never done Shakespeare? This is a great introduction! This workshop introduces students to Shakespeare's stories, and how they are reflected in the current culture, as well as the influence of his work on modern language. Then we get students up on their feet to start to read and embody text from either the Romeo and Juliet prologue, or scenes from Hamlet.
Stage Combat
This workshop focuses on the concept of stage combat, and how it is used in telling the stories in Shakespeare's plays. Students will learn several unarmed combat moves, and be choreographed into a fight from Romeo and Juliet.
Elizabethan Dress and Dance (for Romeo and Juliet)
Learn the history of Elizabethan dress, practice bows and curtsies, and learn two Elizabethan dances! Romeo and Juliet meet at a dance, and students will gain an understanding of how important social functions were in Shakespeare's time, as well as have fun learning to dance.
Scene Studies
Students will dig deep into the text with a partner, and learn how to take Shakespeare's words and make them their own — no "acting" needed! This is an easy way for students of all ability levels to engage with scenes from our touring plays.
"The actors energy and enthusiasm were truly astonishing."
– Student, Cascade High School, Everett, WA
Our touring productions are designed to perform in a wide range of venues from community theaters to school gymnasiums.
On Stage: Playing space of at least 25 feet by 25 feet
Backstage:
Separate dressing rooms for male and female performers
Restrooms with sinks
Drinking/bottled water
6 foot table to be used for props
6 backstage chairs
Technical Support (optional):
Sound system, CD compatible
Repertory lighting plot
Light board operator
Sound board operator
Loading dock/easy stage access
"I thought the play was very well done. I love that it was shorter than normal, and I was impressed that only 6 actors performed the whole thing. Wow!"
-Student, Mt. Vernon High School, Mt. Vernon, WA
Touring Resources
Below are links to download printed materials in support of touring performances. Seattle Shakespeare Company also offers a variety of complimentary and affordable educator resources for schools hosting our touring productions.
2019 Touring Program (PDF)
2019 Touring Study Guide (PDF)
Promotional Materials
For schools or public venues wishing to promote a touring performance please contact the Marketing Department for promotional materials.
Thank you to our touring sponsors: