The New Dos and Don'ts
of Seeing Wooden O This Summer
Hi! Remember us? We're doing live, in-person park shows again. To be honest, we've been planning for this moment for a long time…and yet we'll never feel like we're quite ready. Every day we thank the people of our state for stepping up, taking precautions, and getting vaccinated so that we could get back to performing for you.  And we're all a little nervous, but we have faith and are taking the leap.
And things have changed. We're different. You're different. We have to do things differently.
Let's take a moment to think about how we'd like to spend our time together and be the best we can be when we see each other again. Yes, it's a time to celebrate after all the isolation, but let's do it responsibly. Here are some new do's (and old don'ts that bear repeating) for attending the Wooden O show in the park this summer.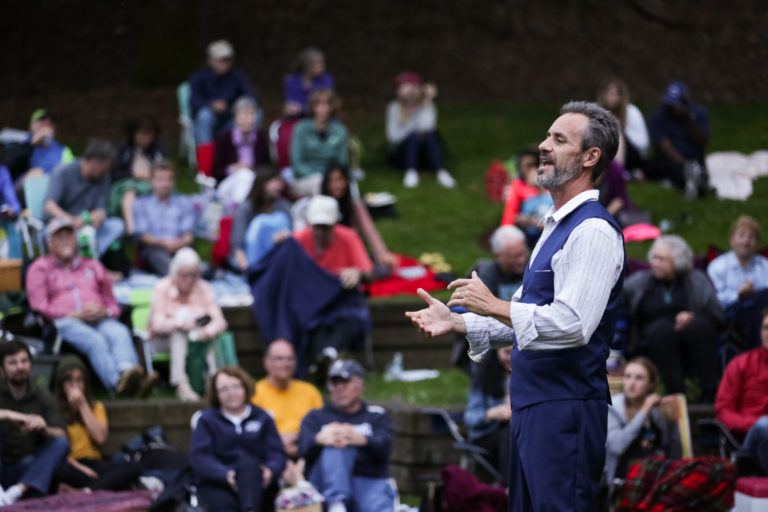 Wooden O Dos and Don'ts for Summer 2021
DO: Be fully vaccinated.
Even though our performances are in outdoor settings, it is likely that you'll be in a crowd of people sitting fairly close to each other. We ask that you only attend the show if you are fully vaccinated. If you're not vaccinated for whatever reason, we'll be glad to see you next year in the parks. Bringing kids under age 12? We will let you make the call about what's best for your child's safety, but we do recommend that they be masked at all times while at the park.
DO: Plan in advance.
This summer there are only 10 performances in the parks. We won't require tickets but please be sure to check the park's website to see if there are any special instructions or requirements. It is likely that there will be larger than usual crowds since many of the parks that we performed at in the past were not available. Choose your date and park. Plan to arrive 30-60 minutes early to get yourself settled to see the show. If you're going to a new park (we have 4 new ones this summer!) make sure you know how to get there and plan for the potential of traffic. Bring food. Bring beverages. Bring low height chairs or blankets.
DO: Check how you're feeling before you arrive.
We know you might have been waiting a long time to see a live show, but if you are not feeling well, please stay home.  If you are at the park for the show and start to feel ill, it's okay to get up and leave…but please try to do it discretely.
DO: Be prepared to observe the park protocols and rules.
While we anticipate that patrons won't need to wear masks while attending the show, it's possible that that city and park protocols may change. Please check their website or call them. Bring your mask anyway. Bring hand sanitizer or wipes. Bring a flexible attitude.
DO: Bring your mobile device.
We will be offering digital programs in the park to minimize our contact with each other (and it helps cut down on waste). You'll be able to access the program through your mobile device. Instructions to do so will be available at the park. We will have a limited number of print programs available for those who would like them. 
DO: Be considerate.
Hey, it's been a while since we've all done this together. Give yourself, each other, and us some grace as we work out the kinks of being together in new ways. Operationally things might be a little rusty. Socially things might be a little rusty. If someone needs space, give it to them. Breathe. Have patience. Enjoy the moment. We're all human and doing the best we can.
DO: Go to the bathroom before the show.
We can't guarantee that all parks will have open and available toilet facilities. Also, Seattle Shakespeare is not in charge of maintaining the facilities. Remember what we said about planning in advance?
DO: Give generously. 
We can't do free Shakespeare in the parks summer after summer without your support. If you have the means, please make a donation either online or at the event.  Artists and arts organizations have had the most challenging year ever to stay afloat. We love performing for you, and you help make this all possible.
DO: Help spread the word.
If you loved the show, tell your friends, or share a post on social media.  Summer goes by awfully fast, and we want as many folks as possible to see and enjoy the show.
DON'T: Take photos or record the show.
In addition to violating actor union rules, it is discourteous to the actors and your fellow audience members.
DON'T: Be surprised if we have to cancel a show.
Life, as we've seen, can be really unpredictable. Summer weather can be unpredictable. If the rain develops into thunder and lightning, we will cancel the show. If the air quality is deemed a hazard, we will cancel the show. AND, we also believe the show must go on. Please be prepared whether it means sun block and drinking water or jackets, blankets, rain gear, and umbrellas. If an audience is willing to endure rain, heat, or smoky air, the show will go on.
Frequently Asked Questions About Wooden O