Vanessa Miller was the Managing Director of Wooden O before it merged with Seattle Shakespeare. As with many theatre spaces, she wore MANY hats during her time with Wooden O: she acted in many shows, directed some, and was George's producing partner for most of the years leading up to the merger.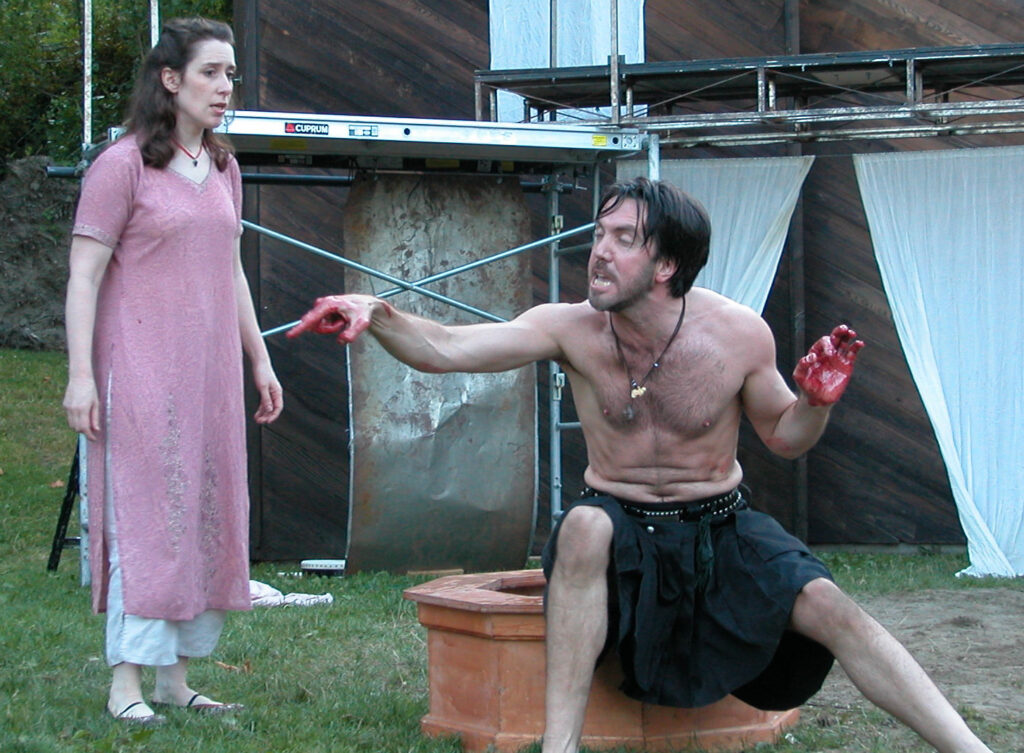 We asked her to share some of her favorite and clearest memories and stories from her years with Wooden O. Check it out below.
---
SSC: What and when was your first show with Wooden O?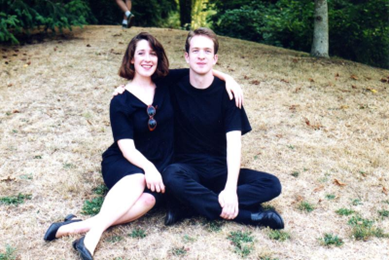 VM: My first show was the first ever Wooden O production in the first year. It was Much Ado About Nothing and there were three performances over one weekend at Luther Burbank Park Amphitheater on Mercer Island. My high school friend, George Mount, called me while I was living in London – I had moved there three years earlier to go to Drama school at LAMDA. He asked me to come home for the summer to play Beatrice. I originally declined because I had just gotten my first British Equity acting job for a touring children's show. But three days later, after thinking of how nice it would be to play Beatrice with friends outside at Luther Burbank Burbank Park Amphitheater with Lake Washington nearby, I called him back and asked if the role of Beatrice was still available. Thankfully it was.
SSC: Is there a specific show(s) that stands out in your mind?
VM: Sheila Daniels directed an excellent production of Macbeth and I played Lady Macbeth. I loved the rehearsal process and the cast was lovely. John Bogar was an outstanding Macbeth.
SSC: What roles have you filled on the cast/crew of Wooden O through the years?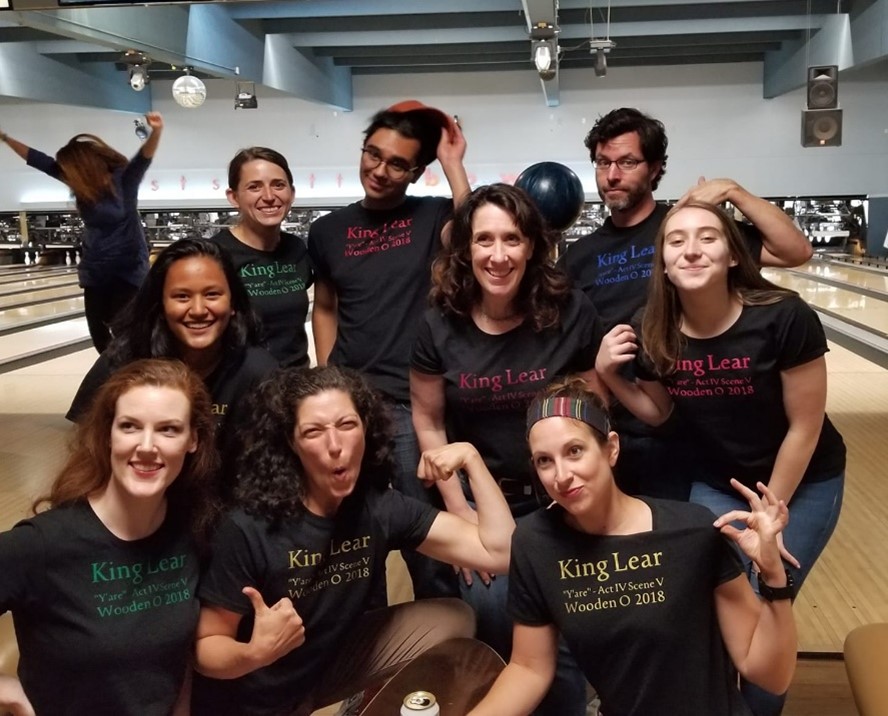 VM: I was the Managing Director for the first thirteen years of the company's existence. Think budgeting, writing contracts, press releases, fundraising, and more. Producing Shakespeare that is free for the audience while paying artists means you have to get creative in raising income, finding corporate sponsors, and seeking donations.  In those thirteen years, our season went from producing one show with three performances in a weekend to producing two shows that performed around the region and to Walla Walla for four to six weeks in July and August. We ended every season in the black. As I worked to establish and maintain relationships with other cities and arts councils, we were able to expand our service area to include Seatac, Bellevue, Shoreline, Edmonds, Issaquah, Sammamish, even the Seattle Center! Those expanded relationships allowed us to lengthen our producing calendar to support two shows each summer. I worked with Actors Equity to provide contracts and hire actors who were members in the union. And over the years, George and I added other part time staff to our team to write grants, assist with fundraising, do graphic design, and also do payroll. Some key people included Keri Healey, Kat Ramsburg, Amy Allsopp, Scott Douglas, and Mary Macala.
Acting: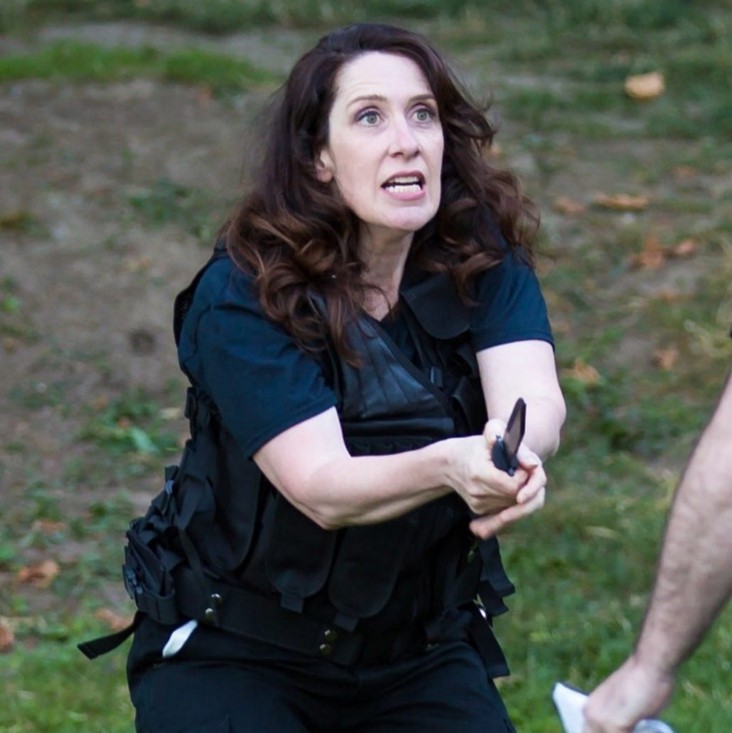 Beatrice in Much Ado About Nothing (two times)
Adriana in Comedy of Errors (two times)
Titania in A Midsummer Night's Dream
Maria in Twelfth Night
Kate in Taming of the Shrew
Helena in All's Well that Ends Well
Chorus in Romeo and Juliet
Lady MacBeth in Macbeth
Mistress Page in Merry Wives of Windsor
Goneril in King Lear
Directing for Wooden O
Winter's Tale
A Midsummer Night's Dream
Othello
Julius Caesar (all femme-identifying)
SSC: What has changed about Wooden O in the years since? What is the same?
VM: Not much has changed. What's the same is that the park shows are still FREE. And that the company of actors load in the sets and costumes, and set up the sound for every performance.
After the first year, we also started passing a hat at shows and asking audiences, if they were able, to make a donation. Much of our fundraising relied on on-site donations.
SSC: What is your favorite thing about working on a Wooden O show?
Working with long-time friends and collaborators like Crystal Dawn Munkers and Christian Duhamel. Theatre really is about teamwork!
SSC: Do you have any particularly fond/funny memories from your experiences with Wooden O?
VM: In our second year, George directed a production of The Comedy of Errors set in a vaudeville world with original music, songs, dance, slapstick, a ventriloquist, and more. He remounted it many years later, and I got to play Adriana in both productions; she's the jealous wife.
In this production, George staged a pie fight. There was a whole table of cream pies to be thrown. I got to throw a cream pie in the face of my cheating husband, and I was also hit in the face with a cream pie. Lots of characters got hit with pies. It was the best! Closing your eyes and your mouth before contact was essential. All that cream made for some slippery grass stages. And I got to do it in two different productions. The audiences always loved the pie fights.