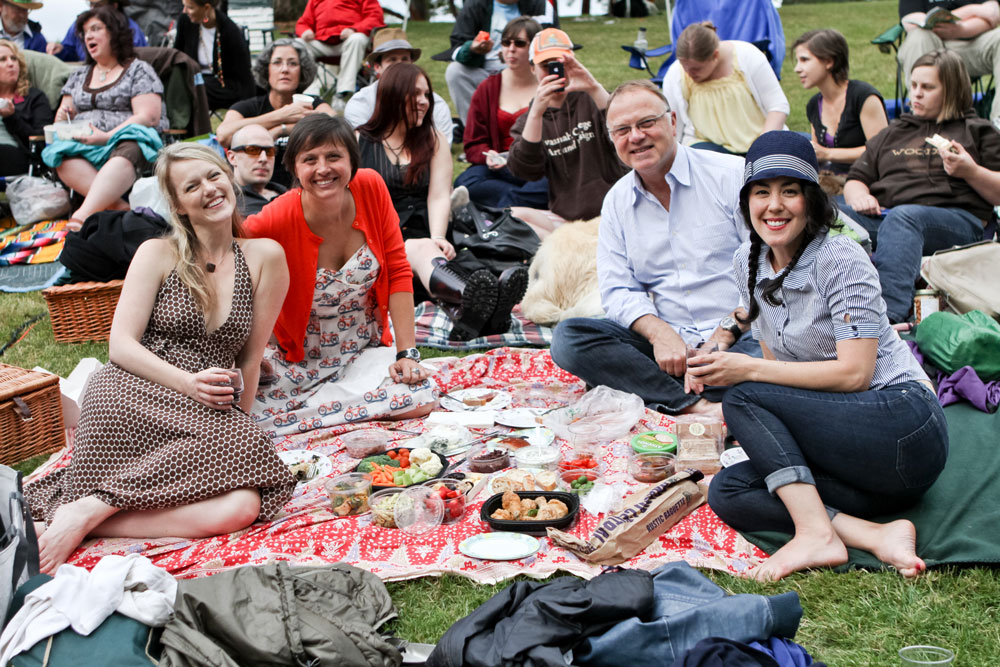 Part of the fun for many Wooden O theater-goers is spreading out a feast on a picnic blanket to dine on the lawn before the show. We've seen everything from elaborate set ups with wine glasses and cloth napkins to buckets of fried chicken and a can of soda. After a mishap last summer, we can definitely tell you that fondue is not picnic food.
With our Wooden O productions of "Julius Caesar" and "The Two Gentlemen of Verona" starting performances on July 10, it got us thinking, "What's in your picnic basket?"  Do you have a tradition of bringing the same foods to the park each summer?  Are you ambitious and try to create show-themed meals? (Julius Caesar Salad, anyone?) Or do you make a quick run through the grocery store on the way to the show, grabbing any item that looks portable and tasty? (Guilty as charged!)
Tell us about your Wooden O picnic traditions (or ambitions) and give us a peek at what's planned for your picnic basket this summer. Let us know in the comments section.
A Shakespeare Picnic
ESSENTIALS
Blanket
Picnic basket or cooler
Plates, glasses, cups, cutlery, napkins (handi-wipes are helpful)
Serving spoons, forks and knives.
Bottle opener
Wooden cutting board  – totally useful even if you're not cutting items
Small plastic bag for trash
Jackets and blankets (it is the Pacific Northwest, after all)
Your best behavior … remember you are dining with others in close proximity.
BEVERAGES OF YOUR CHOICE 
Here are some ideas to get you started on creating your own perfect picnic
Cheese.  Make it your favorites!  Brie is always a safe choice, but try some of the great local cheeses being created. It's the perfect time to splurge a little and be adventurous.
You gotta have something for that cheese to sit on. Grab a baguette or some crackers.
Dips. Hummus is a favorite, or try spinach dip or smoked salmon spread. Good with cut up veggies
Sandwiches or sandwich rolls make things easy. Make them up at home with what you like.
 Salads. Caprese salad is an easy favorite. Potato salad, coleslaw, mixed green salad; just make sure it's not too complicated to eat, since you want to enjoy the show and your food at the same time.
Fruit. We've got a bounty of it at this time of year. Strawberries, melon, cherries, apricots, blueberries.
SWEET ENDINGS
Bring your favorite cookies and enough to share
Brownies or cupcakes can be fun
Pre-sliced banana bread or zucchini bread
Have we got you hungry yet?  Pick a play and park and load up your basket.  We can't wait to see what you bring.