Reefer Madness.  Super Fly.  Master of the Flying Guillotine. These are just some of the films that might have played at a Grindhouse cinema. Since our production of Titus Andronicus takes inspiration from exploitation films and Grindhouse cinemas we've compiled some resources for you to explore and familiarize yourself with this wide-ranging genre.
But be prepared!  These films were intentionally low-budget mixtures of sex and sensation shown often in low-rent venues. They were meant to titillate with their ludicrous premises and outlandish characters.
So Just What Is Grindhouse?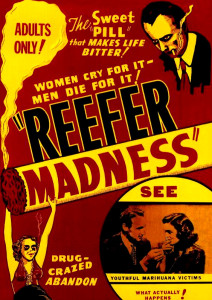 Once upscale, some inner-city movie houses built in the hey-day of the 1930s fell into disrepair with the advent of television and urban decay in the mid-century. In order to keep the theatre open and running, the owners would resort to featuring low-cost exploitation films. Double or Triple features of topics and situations that couldn't be shown on television supplied the theatre with an audience and kept filmmakers pumping out a dizzying array of genre films for them to watch.
The Exploitation Genre
Independent and made on a dime, exploitation films were marked by how they promoted the outrageous aspects of the film. Sex, violence, and action were hallmarks and the more bizarre the better. The trailers and ads for the films were often better and more interesting than the film itself.
The All-Time Greatest Grindhouse Films
Read: Grindhouse: The Forbidden World of "Adults Only" Cinema