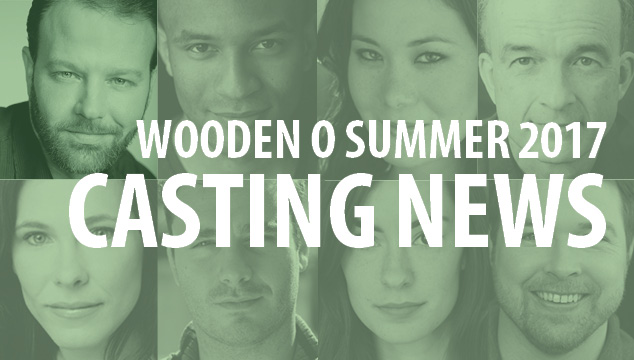 Pining for warmer weather?  We are, too! We console ourselves with thoughts of Wooden O and free Shakespeare in the park. Sunshine, picnics with friends, laughter…it's not too far away, we promise.
This summer we've got two great casts joining us for our Wooden O productions of Much Ado About Nothing and Pericles. You'll recognize several artists from our indoor shows, but we've also got a lot of new comers who we really want you to meet.
Jon Kretzu, who staged our recent indoor productions of Love's Labour's Lost and Twelfth Night, will direct Much Ado About Nothing. The production features MJ Sieber as Benedick and Keiko Green as Beatrice.  Both Sieber and Green were just on stage in our recent musical version of A Midsummer Night's Dream as Bottom and Helena.
Returning this summer to stage Pericles is director Annie Lareau. She helmed our 2015 Wooden O As You Like It that was shot through with laughter and bluegrass music. Pericles will feature Lorenzo Roberts in the title role of the wandering adventurer.  Tracy Hyland and Anastasia Higham join him as his wife Thasia and daughter Marina. Roberts appeared in our productions of Othello and Henry VI part 1. Hyland recently stepped into the role of Warwick during Bring Down the House after and actress was injured. Higham played Juliet in our 2016 production of Romeo and Juliet.
The full cast for Much Ado About Nothing includes Lorabeth Barr (Ursula & Watch), Israel Bloodgood (Balthasar), Maddie Brantz (Watch/Maid ), Spencer Funk (Claudio), Keiko Green (Beatrice), Frank Lawler (Leonato), Meranda Long (Hero), Alex Matthews (Don Pedro), Corey McDaniel (Antonio), Rafael Molina (Conrade), George Mount (Dogberry), Conner Neddersen (Don John & Verges), Cassandra Neumann (Sexton/Jazz Singer), MJ Sieber (Benedick), Hannah Tamkin (Margaret/Watch), Joe Tramell (Priest/Messenger), Steve Vanderzee (Borachio).
The Pericles full cast includes Alana Cheshire (Gower/Diana), Heather Hawkins (Lychordia/Bawd), Anastasia Higham (Marina), Tracy Hyland (Thaisa), Arjun Pande (Lysimicus/First Pirate), David Pichette (Antiochus/Simonides/Boult), Jackie Pomeroy (Leonine/Tyrian Sailor), Lorenzo Roberts (Pericles), David Rock (Thailard/Fisherman /Lord of Mytilene), Cally Shine (Philoten/Cerimon), Brian Simmons (Helcanus/Pander), Nikki Visel (Escanes/Dionyza), Maile Wong (Daughter of Antiochus/Philemon).