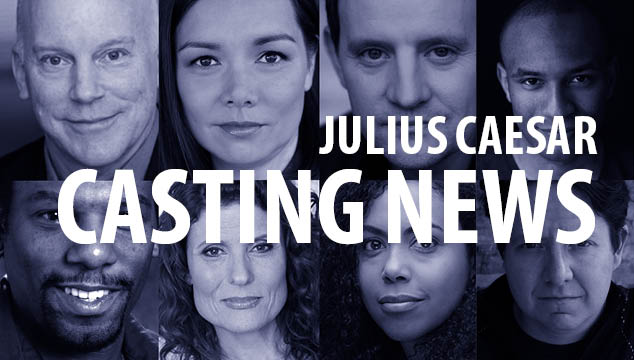 Full casting is announced for Julius Caesar, the opening production of Seattle Shakespeare Company's 2017-2018 season. Directed by Artistic Director George Mount, the production runs at the Cornish Playhouse September 13 through October 1.
Playing the title role is Peter Crook, who previously appeared as Kreon in Medea at Seattle Shakespeare Company last fall. He is joined by Reginald Andre Jackson who will play Brutus and Bradford Farwell who will play Cassius. Jackson was last seen at Seattle Shakespeare Company in The Winter's Tale (2016) as Polixenes. Julius Caesar marks Jackson's 17th production with the company. Farwell appeared in Seattle Shakespeare Company's productions of Measure for Measure (2015) as Angelo and Cymbeline (2011) as Iachimo.
The company also includes Allan Armstrong (Trebonius), Chantal DeGroat (Casca), Sunam Ellis (Portia), Macall Gordon (Calpurnia), Bridgit McKevitt (Cicero/ensemble), Jaime Riggs (Flavius/Ensemble), Lorenzo Roberts (Marc Antony), David Rock (Lepidus/ensemble), Brian Simmons (Metellus), Arlando Smith (Decius), Tyler Trerise (Soothsayer/Octavius), Annie Yim (Marullus/Cinna), and Dylan Zucati (Lucius/Ensemble).
Scenic design for Julius Caesar is by Craig Wollam with costume design by Doris Black. Lighting design is by Roberta Russell and sound design by Erik Siegling and Robertson Witmer. Fight director is Peter Dylan O'Connor.
Ticket to Julius Caesar are now on sale by phone at (206) 733-8222 or online.