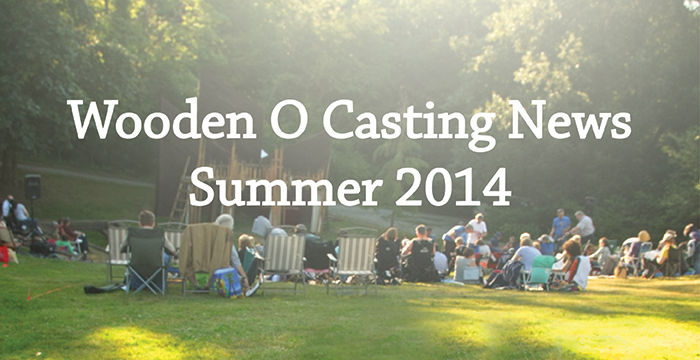 We're thrilled to announce our casting for this summer's free Wooden O productions of The Two Gentlemen of Verona and Julius Caesar which start performances on Thursday, July 10. Both productions will perform in park venues throughout King County and then transfer to Walla Walla, WA as part of Shakespeare Walla Walla.
David Quicksall, who staged Seattle Shakespeare Company's production of Coriolanus and recently appeared in Much Ado About Nothing, will direct The Two Gentlemen of Verona. The production features Jason Marr as Proteus and Conner Neddersen as Valentine. Marr recently appeared in Richard II and Neddersen has performed with Seattle Shakespeare Company's touring program for three years.
Wooden O veteran Vanessa Miller directs an all-female cast of Julius Caesar. Miller directed the 2010 Wooden O production of Othello and appeared in The Comedy of Errors for Wooden O in 2011. Julius Caesar features Therese Diekhans as Julius Caesar, Suzanne Bouchard as Brutus, and Amy Thone as Cassius. Diekhans appeared in Coriolanus and the Wooden O production of The Winter's Tale. Bouchard will be making her Seattle Shakespeare Company debut. Amy Thone is currently playing Kent in King Lear and appeared last summer in The Tempest.
The Two Gentlemen of Verona full cast includes: Scott Ward Abernethy (Thurio/Quintet/Ensemble), Bridgid Abrams (Ensemble/Singer), Kevin Bordi (Launce), Keith Dahlgren (Antonio/Host), Angelica Duncan (Julia), Jim Gall (Duke), Rachel Glass (Lucetta/Singer), Eric Jensen (Eglamour/Panthino/Singer), Jacob Livingston (Quintet/Ensemble), Jason Marr (Proteus), Carolyn Marie Monroe (Sylvia), Christopher Morson (Speed), and Conner Neddersen (Valentine).
Julius Caesar full cast includes: Tonya Andrews (Soothsayer), Suzanne Bouchard (Brutus), Aimée Bruneau (conspirator), Rebecca M. Davis (conspirator), Therese Diekhans (Julius Caesar), Karen Jo Fairbrook (Marellus/Caius Ligarius), Macall Gordon (conspirator), Heather Hawkins (Calpurnia), Meg McLynn (Portia/Octavius), Victoria McNaughton (ensemble), Sarah Russell (ensemble), Melissa Slaughter (ensemble), Amy Thone (Cassius), Nikki Visel (Conspirator), Kayla Walker (Lucius), Terri Weagant (Marc Antony), and Kate Witt (Casca).
Set designs for both productions will be by Craig B. Wollam. Costumes for The Two Gentlemen of Verona will be by Jocelyne Fowler and Kelly McDonald will design costumes for Julius Caesar. Evan Mosher will design sound for Julius Caesar and Brian Wagner will compose original music.