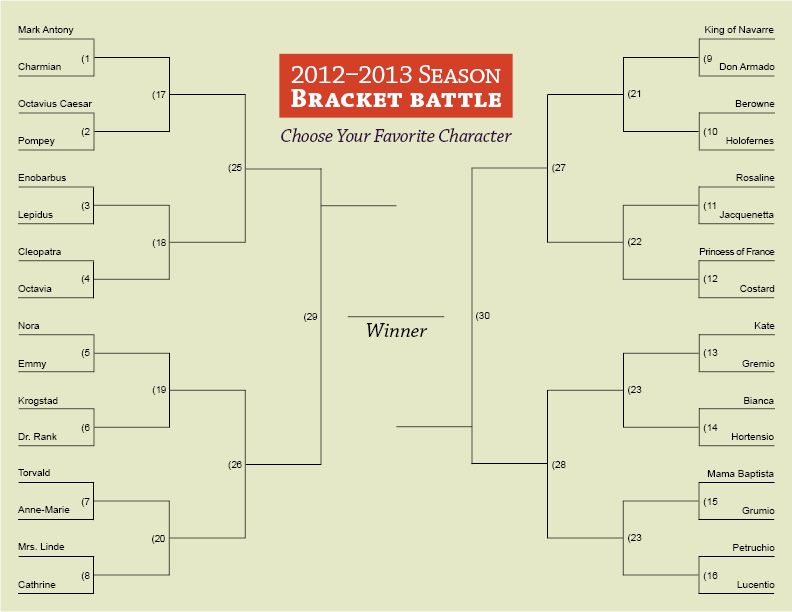 It's basketball tournament time and the brackets are out, so we have decided to create a little competition of our own. It's your chance to cheer on and vote for your favorite characters from the plays in Seattle Shakespeare Company's current season. Each play will have an ultimate winner who will go up against the winners of the other plays until a final victor is chosen. Will Cleopatra beat out Nora from A Doll's House? How about a battle between Don Armado from Love's Labour's Lost and Petruchio from The Taming of the Shrew?
Our first round of voting (see below), with 16 characters from this season's plays, closes at midnight on Sunday, March 24.
Round 2, with your chosen 8, opens Tuesday, March 26 with voting closing on Friday, March 29.
Your final four character choice vote begins Tuesday, April 2 and comes to a close Friday, April 5.
Finally, the championship voting begins Monday, April 8 before coming to a close on Friday, April 12. The results of the championship bout will be announced Monday, April 15.
So who's your favorite?  Start voting and spread the word!
(click the image to get a larger version)
Antony and Cleopatra
A Doll's House
Love's Labour's Lost
The Taming of the Shrew