"At the forefront of all the serious new fiction released this year."
– Midwest Book Review

Strutting and Fretting
A novel by Kevin McKeon
Join Seattle Shakespeare Company for a book signing and reading with author
and Timon of Athens actor Kevin McKeon. Admission to the signing is free.
Saturday, February 3 at 4:30 PM (following the matinee performance) in the Center Theatre Lobby
His Macbeth went horribly wrong. Even so, Bob lands a great acting job at a summer theatre on the California coast. But instead of relishing his success, Bob is preoccupied with doubts about his talent, his life choices and his future. And his wife has left him. And he's broke.
But hey – four months of solid work is something, right? Maybe Bob can turn his life around over the summer – and perhaps be invited to keep his job in the fall. But it may take a resolve and a determination that Bob does not, at this point in his life, have an abundance of.
And who knows? Maybe Henry V will be more successful.
"McKeon times these beats impeccably; he writes with a kinetic energy that propels Bob's darkest and funniest moments at the same pace, making for both a fully realized narrator and a compulsive read." – Kirkus Reviews
 "This superb work of fiction peels back the layers of [Bob's] carefully guarded soul for readers to explore. It is a masterful examination of a young man struggling to balance chronic low self-esteem with a performer's perpetual need for approval." – Publishers Daily Reviews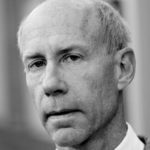 Kevin has appeared in Medea, King Lear, Macbeth, and A Midsummer Night's Dream for Seattle Shakespeare Company. He has also worked as an actor at Book-It Repertory Theatre, Seattle Public Theater, ArtsWest, New City Theater, and others around town. He has adapted several literary works for the stage, including, currently, The Maltese Falcon (with Jane Jones) at Book-It Repertory Theatre. His adaptation of David Guterson's Snow Falling on Cedars has been performed at many theaters around the country, and his adaptation of Tolstoy's Anna Karenina was commissioned by Portland Center Stage and premiered in their 2012 season. Strutting and Fretting is his first novel.