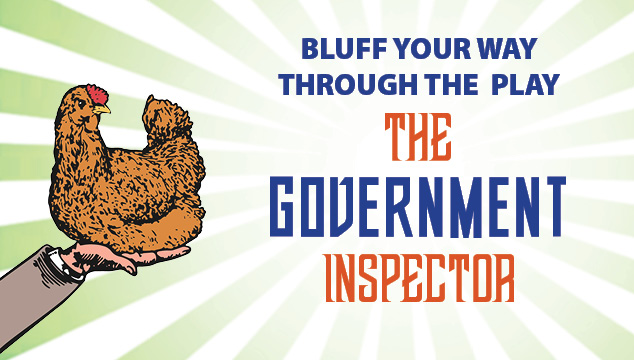 Wacky characters, quirky dialogue and extravagant physicality, The Government Inspector will have you giggling and guffawing.  Jeffrey Hatcher's adaptation takes the jokes of Gogol's original Russian farce and dials it up to 11.  Not familiar with Nikolai Gogol? Neither were we, but we're sure glad to know him now….let us introduce you.
Like a Train Bound for Laughs
Many of Nikolai Gogol's characters in play work as one all towards the same goal. He didn't create multiple comic story lines. Everyone's focused on the same thing…how to get out of this sticky situation. The humor is found in the all the inventive ways the characters go about it.
Sunrise to Sunset
What a difference a day makes! Everything that happens in The Government Inspector occurs during the course of one day. While it may follow the Aristotelian unities of drama, it also helps to pack in a whole lot of antics in a short amount of time.
Lover? Hero? Charlatan? Nah…
There are no real romantic relationships in The Government Inspector. There are also no virtuous characters and no real villains. Gogol exposes the ludicrousness of the world by creating characters that follow their truth, but in an extreme way.
What's in a Name? A Whole Lot!
Gogol's character's names have deeper meanings. And it's really funny if you speak the language. For example, the mayor of the town's name is Anton Antonovich Skvoznik Dumakhanovsky's.  Translated to Ukrainian it means "a windbag fond of blowing his own trumpet."  Appropriate? Oh,yeah!
And In Second Place…
The Government Inspector will be Seattle Shakespeare Company's third production of an adaptation by Jeffrey Hatcher, making him the company's second most produced playwright after Shakespeare. Other Hatcher adaptations produced were The Turn of the Screw and A Servant of Two Masters.
Inspiration Strikes
The Government Inspector was one of the inspirations for beloved comedy Inspecting Carol created at Seattle Repertory Theatre in 1991. It's a play that continues to be a favorite for theatre companies across the country.
From the Department of What Goes Around Comes Around
R. Hamilton Wright plays Khlestakov in our production of The Government Inspector. The character was the inspiration for the character of Wayne in Inspecting Carol, a part originated by Wright at Seattle Rep over 25 years ago!
From the Department of What Goes Around Comes Around, Part 2
In The Government Inspector two landowners look remarkably similar. The actors playing Dobchinsky and Bobchinsky, Arjun Pande and Kevin Kelly, are not strangers to playing twins.  They played the Dromio twins in our 2015 production of The Comedy of Errors.
Carrying the Russian Mantel
Nikolai Gogol had a tremendous influence on arts and culture in his country. His novel Dead Souls is considered a paramount of 19th Century Russian literature. The Government Inspector, one of only three plays he wrote, is considered the greatest comedy ever Russia has ever produced. And it took only two months to write it!
A Royal Opening
Tsar Nicolas I, after reading a copy of The Government Inspector, liked it so much that he requested the first theatrical production…even though it lampooned much of what was wrong under his rule.
Just Between Friends
The original idea for The Government Inspector came from Gogol's friend Alexander Pushkin, the great Russian writer and poet. Legend has it he relayed a similar real life situation that encountered himself while visiting a remote town.
Harsh Reaction
After getting a lot of criticism from government officials about how they were portrayed in the play, Gogol left Russia. His self-exile lasted 12 years until he eventually returned to Moscow. He died at age 42.