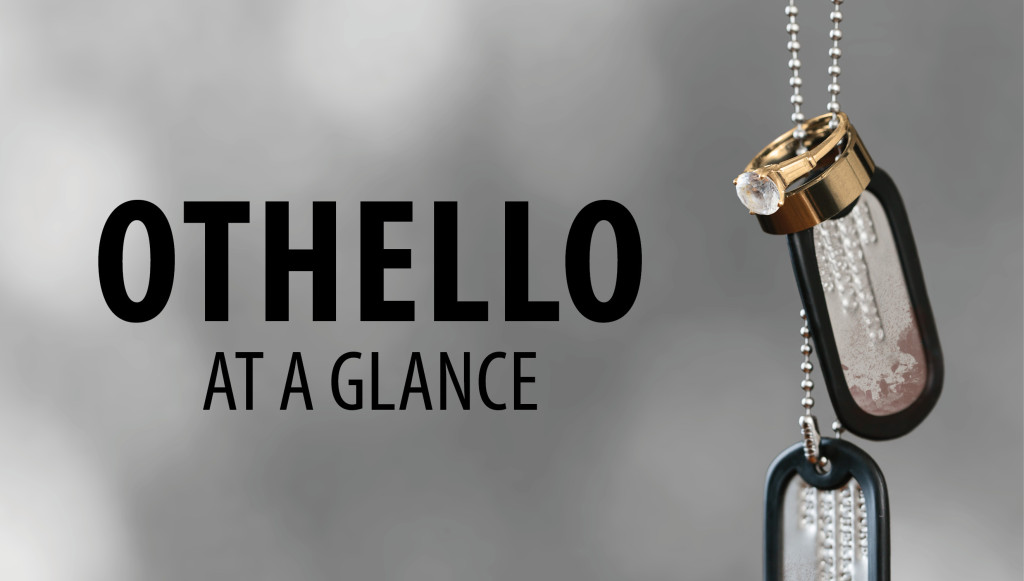 What's the connection between Othello and Measure for Measure…besides the author? Ever use the phrase green-eyed monster and know where it originated? We've got answers and more in our handy guide to Othello.
The Giraldi Connection
Like many of his plays, Othello wasn't entirely created from Shakespeare's imagination.  He borrowed heavily from an Italian novella called Un Capitano Moro (A Moorish Captain) by Giovanni Battista Giraldi (also known by his pen name Cinthio). Shakespeare probably read it in the original Italian.  It also turns out that Giraldi provided inspiration for Shakespeare's Measure for Measure in his Promos and Cassandra that was adapted by George Whetstone.
So…what did Shakespeare add?
Well, all of the names in the play, with the exception of Desdemona, were created by Shakespeare since the source story only referred to them by their rank or title.  The lovesick character of Roderigo doesn't appear at all in Giraldi's original story. It is possible Shakespeare added him to provide some comic relief and give Iago a sidekick.  The way in which Desdemona dies is also different than the source novella.
What's in a Name?
Othello means "wealth" and may have been taken by Shakespeare from the name of an ancient Roman emperor whose nickname was Otho. Desdemona means "ill-fated."
Words, Words, Words
Although Othello is the tragic hero in the play (and has his name in the title!) it's the character of Iago that has the most to say…1098 lines of dialogue! Othello by comparison has 887 lines
It's ironic, dontcha think…
The word "honest" or some variation on it is said in the play 52 times (I dare you to count 'em!).  AND it's used most often by or about Iago!
So…what's the story?
Othello is a powerful general in the Venetian army. Although he and his friend Iago have been through many battles together, Othello gives a promotion to Michael Cassio instead of Iago. Enraged, Iago starts plotting Othello's downfall.
Othello has eloped and married Desdemona without her father's consent, and is brought before the duke of Venice. The duke is impressed by Othello's honesty and by Desdemona's loyalty to him, and encourages her father to accept the marriage. He also enlists the Othello's services to fight the Turks. Othello and Desdemona arrive in Cyprus, where they find that the Turkish fleet has already been destroyed by a storm. During the ensuing celebrations, Iago gets Cassio drunk and spurs him on to a brawl that results in his dismissal from Othello's service.
Iago works to convince Othello that Cassio is sleeping with Desdemona. He gradually establishes this suspicion in Othello's mind, while denying that he himself believes it. Desdemona notices her husband's sudden coolness toward her and confides in Emilia, Iago's wife. Unaware of Iago's scheme, Emilia assists him by procuring a handkerchief that was given to Desdemona as a keepsake by Othello. When it turns up in Cassio's possession, Othello is convinced of his wife's infidelity. He smothers her to death in their bed, only to find out from Emilia that it was she who stole the kerchief for Iago. Overwhelmed by guilt, he attempts to kill Iago, and then stabs himself, dying at his wife's side. Iago is arrested and refuses to explain his motives or to confess his crimes.
Character Lowdown
Othello, a general in Venice's military
Desdemona, daughter to Brabantio and wife to Othello
Iago, Othello's ensign (rank immediately below lieutenant)
Michael Cassio, Othello's lieutenant
Emilia, wife to Iago and Desdemona's attendant
Roderigo, a Venetian gentleman
Bianca, mistress to Cassio
Brabantio, a senator
Duke of Venice, the official authority in Venice
Montano, governor of Cyprus before Othello
Lodovico, kinsman to Brabantio
Gratiano, brother to Brabantio
Shakespeare's Moors
There are three Moors appear in Shakespeare's plays: Aaron in Titus Andronicus, the Prince of Morocco in The Merchant of Venice, and Othello. Featuring black characters in Elizabethan plays was rare, but one's in which they were the main story was almost unheard of. Due to global trade, London was an international city while Shakespeare was creating his plays. There would have been people of various ethnic backgrounds walking the streets or perhaps even attending a play.
See portrayals of people of color in European Art history
Unseen Wounds
Our production of Othello has a blending of old and modern elements to it. Director John Langs and the cast are exploring the idea that Othello and other military personnel may be suffering from post-traumatic stress disorder (PTSD) or traumatic brain injury from their time fighting in the field.
Learn more about hidden brain injuries in soldiers
You Heard It Here First
Shakespeare has given us words and phrases that we use every day, but before he made them up they didn't exist. Below are some familiar phrases and words that first hit the English language scene with Othello. Listen closely in the play to see if you can catch them all.
A foregone conclusion.
Green-eyed monster.
I will wear my heart upon my sleeve.
Neither here nor there.
Vanish into thin air.
Chaos is come again.
Pomp and circumstance.
Enmesh – to wrap around or entangle, to trap
Hint – occasion or opportunity; suggestion or clue
Seamy-side – underside with stitches showing; degraded aspect or part; sordid side
Want to find out more? Check out Coined by Shakespeare by Jeffrey McQuain and Stanley Malless for an in-depth study and fun exploration of Shakespeare's creative wordplay.