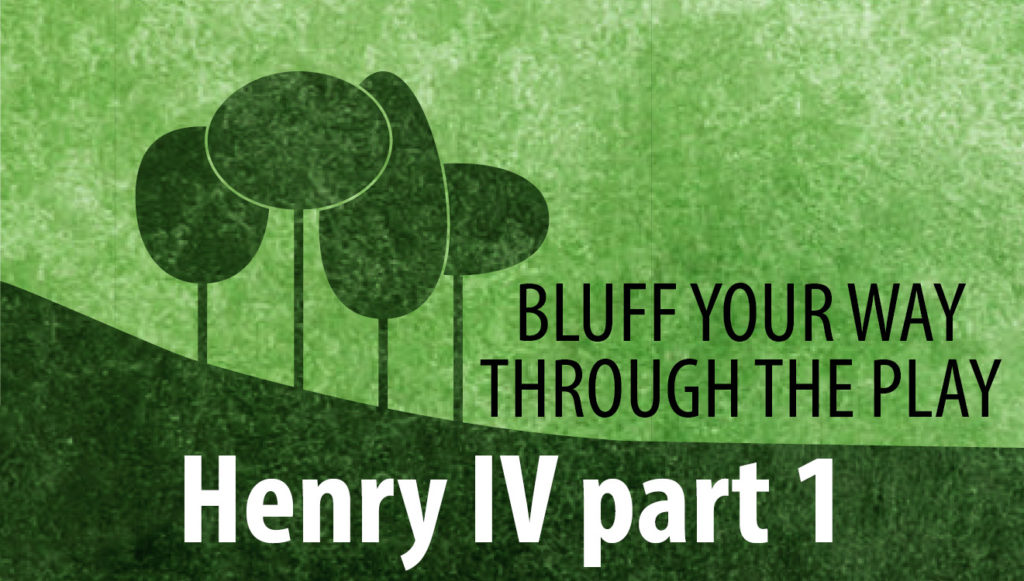 History Retold…and Modified
Shakespeare relied heavily on The Union of the Two Illustrious Families of Lancaster and York, a history of England's kings from Richard II to Henry VIII written in the mid-1500s, to build the plot of Henry IV.
The Dering Manuscript
Did you know that the oldest known manuscript of Shakespeare's work is an abridged script of Henry IV Part I and Henry IV Part II? The document was discovered in 1844 from the private library of the late Sir Edward Dering. This condensed version combined Part I from a 1613 publication and Part II from a 1600 publication. Dering revised the manuscript for an amateur performance with friends sometime between 1622 and 1624. This is also the first known amateur performance of a Shakespeare play!
Larger than Life
Falstaff is one of the most beloved personalities that Shakespeare created. The character was originally named Sir John Oldcastle. The historic Oldcastle had been a supporter and friend of Henry V, but eventually became central to a conspiracy that intended to capture the royal family and install Oldcastle as Regent. No wonder Shakespeare felt okay making jokes at his expense! All this messy history was mortifying for the current Lord Chamberlain (the office in charge of theater censorship) who was a descendant of Sir John Oldcastle! After a big fuss, the character's name was changed to Falstaff. Fortunately for Shakespeare, Queen Elizabeth was so tickled by Falstaff's character that she requested to see a third play showing the old, fat knight in love. "The Merry Wives of Windsor" was written specifically for this request. Befitting the ultimate roguish ego, there have been 3 separate operas written about Falstaff.
Ow! That had to hurt!
Prince Hal was only 16 years old at the Battle of Shrewsbury. During the fight, the young royal was shot in the face by an arrow that had to be removed by a physician. The wound left a permanent scar. Hotspur was also shot in the face by an arrow during the battle, though, unlike the prince, Hotspur's wound was fatal.
A Rose by Any Other Color
Henry IV Part I is the second installation in a tetralogy (four part series) by Shakespeare that chronicles the early years of the War of the Roses. In Richard II, Henry Bolingbroke becomes king by taking the throne from his cousin Richard. This upset in the succession of the crown pits the House of Lancaster (represented by the red rose) against the House of York (represented by the white rose). Henry IV picks up the story three years after the events of Richard II and shares a lot of the same characters.
Keeping Up with the Percys
The competition in reputation (and on the battlefield) between the wayward Prince Hal and accomplished Henry "Hotspur" Percy gets a lot of stage time in Henry IV. King Henry, laments that his rival, Northumberland "should be the father to so blest a son" while disparaging his own inadequate heir. Hal himself betrays some unease when he jokingly portrays Hotspur as an insatiable overachiever. For centuries Hotspur (along with Sir Falstaff) even monopolized the hearts of audiences and actors alike, it wasn't until the 20th century that Hal started really getting attention as a star of the show. When Hotspur and Hal meet in battle, it's clear that their rivalry must end, "Think not, Percy / To share with me in glory any more."
The Boys' Club
This summer's sister show, As You Like It, boasts the female character with the most lines in the Bard's canon. Henry IV, on the other hand, is definitely a boys club with less than 4% of the lines spoken by female characters, making it second only to Timon of Athens for least female lines in Shakespeare's works. Lady Mortimer doesn't even have any written lines!
So…what's the story?
Henry Bolingbroke has taken the crown from his cousin King Richard II and faces uprisings in Scotland and Wales. The Scots are defeated by Henry Percy, known as Hotspur, son of Northumberland. After the battle, Hotspur refuses to hand over his prisoners. He insists his brother in-law, Mortimer, who has been taken prisoner by the Welsh, must be ransomed. King Henry refuses. He fears that Mortimer, who was named King Richard II's successor, might lay claim to the throne. The Percy family changes sides and plots a rebellion against Henry, who unfavorably compares his own irresponsible son, Prince Hal, to the valiant young Hotspur.
During a riotous escapade with Sir John Falstaff and his disreputable friends at the Boar's Head tavern, Hal is summoned to help lead the royal forces against the rebellion.
Mortimer, Hotspur, and the Welsh prince, Glendower, plan to divide England among themselves. Just before the battle, Hotspur's father and Glendower withdraw from the fight. Henry offers the rebels a pardon if they will disband, and Hal offers to fight Hotspur in single combat. Neither offer reaches Hotspur who sees no choice but to fight. During the battle, Hal kills Hotspur and also saves his own father's life. Henry is victorious and dispatches troops to fight Northumberland, while he and Prince Hal depart for Wales to destroy Glendower and Mortimer's supporters.
Adapted from Shakespeare Genealogies by Vanessa James
Character Lowdown
King Henry IV, King of England (formerly Henry Bolingbroke)
Prince Hal, son of the King and Prince of Wales
John Lancaster, son of the King, younger brother of Prince Hal
Westmoreland, an ally of the King
Blunt, an ally of the King
Northumberland, a former ally of the King who rebels, father of Hotspur
Hotspur, son of Northumberland, husband of Lady Percy
Lady Percy, sister of Mortimer, wife of Hotspur
Worcester, brother of Northumberland, uncle of Hotspur
Vernon, a relative and ally of Worcester
Glendower, father of Lady Mortimer, leader of the Welsh rebels
Mortimer, a Welsh rebel, brother of Lady Percy, husband of Lady Mortimer
Lady Mortimer, daughter of Glendower, wife of Mortimer
Douglas, leader of the Scottish rebels
Falstaff, a friend of Prince Hal
Poins, a friend of Falstaff and Prince Hal
Bardolph, a friend of Falstaff and Prince Hal
Peto, a friend of Falstaff and Prince Hal
Mistress Quickly, a tavern hostess in Eastcheap
Gadshill, a thief and friend of Falstaff and Prince Hal
Sheriff
You Heard It Here First
Shakespeare has given us words and phrases that we use every day, but before he made them up they didn't exist. Below are some familiar phrases and words that first hit the English language scene with Henry IV. Listen closely in the play to see if you can catch them all.
The better part of valor is discretion
The game is afoot
Give the devil his due
Send packing
Stony hearted
Set my teeth on edge
Tell truth and shame the devil
Anchovy
Bloodstained
Downstairs
to dwindle
to forward
hob-nails
majestically
to misquote
to outdare
skim milk
upstairs (first use as adjective)
well-read
Want to find out more? Check out Coined by Shakespeare by Jeffrey McQuain and Stanley Malless for an in-depth study and fun exploration of Shakespeare's creative wordplay.