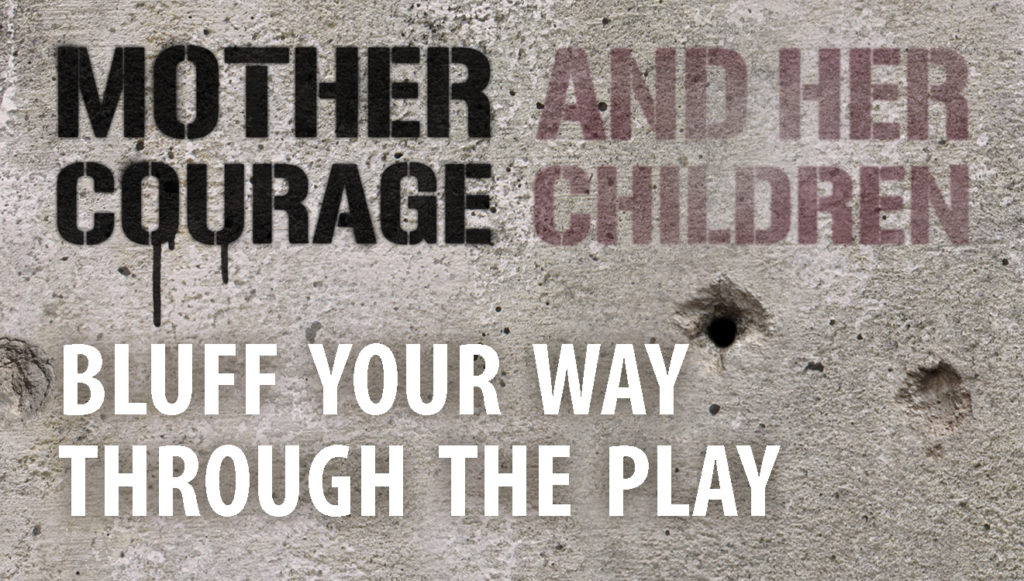 So…How'd She Get the Name?
Mother Courage was a nickname given to business woman Anna Fierling when she ran through a battle in order to sell loaves of bread before they spoiled. Brecht and his collaborators drew upon the writings of a 17th short novel, The Rungate Courage, which had a character similar to Mother Courage.
War/Anti-War
In 1933 Bertolt Brecht fled Nazi Germany and ended up in Sweden. In a flurry of month-long creativity, he and collaborator Margarete Steffin wrote the play in response to Hitler's 1939 invasion of Poland.  First produced in 1941 in Switzerland, the play premiered in Germany in 1949 with Brecht directing his wife, Helene Weigel, in the title role. Since then it has been performed the world over and is considered one of the greatest plays of the 20th century.
Musical Theatre Connections
Brecht originally had Ethel Merman in mind for the American premiere of the play in 1963.  Director, choreographer, and producer Jerome Robbins, known primarily for staging musicals, directed the play's Broadway debut that featured Anne Bancroft, Barbara Harris, and Gene Wilder.
The Thirty Years War
The play is set in Sweden, Poland, and Germany during the Thirty Years War that lasted from 1618 to 1648. It began as a civil war between Catholic and Protestant groups. Over time it grew to involve most of Europe, and became an international war of territory and trade.  Interestingly enough, the war started just two years after Shakespeare's death.
On the Road with a Cart Strapped to My Back
Mother Courage and Her Children takes place over 12 years represented by 12 unconnected scenes. Mother Courage pulls her cart along with her three children following the Protestant army, trading with soldiers, and trying to eke out a living from the war. During the course of the play she travels over 1,900 miles.
So…Why is Brecht Important?
Bertolt Brecht is one of the greatest playwrights of the 20th century. At the time of creative output, he was seeking a new kind of theatre that reflected the times in which he lived and sought to replace "old-fashioned" theatre styles and techniques with a modern approach that attempted to replace sentiment. His ideas about art permeate Western culture and can be seen in the works of artists today, although they may not even be aware of Brecht's influence.
Character Lowdown
Mother Courage – An entrepreneur who follows armies with her canteen wagon.
Eilif –Her eldest son
Swiss Cheese– Her youngest son
Kattrin – Her teenage mute daughter
Recruiting Officer and Sergeant – Both conspire to recruit Eilif into the army
Cook – Prepares food for the Swedish Commander
Commander – The head of the Swedish Regiment
Chaplain – Religious leader for the army
Armourer – Sells bullets to Mother Courage
Yvette Pottier – A prostitute who follows the army
Old Colonel – Elderly commander who acts as Yvette's "financial advisor"
Regimental Clerk – In charge of recording complaints
Peasant Man and Woman – Victims of an attack on their farm
Old Woman and Son – Try to sell goods to Mother Courage
Sing Me a Song
The music in a Brecht play is not like the music you'll hear in a musical.  He intended the music to jar the audience and take them out of the action of the play. The music in the show is often used as a commentary or to express a character's feelings.
That's Epic!
Brecht was part of an artistic movement called Epic Theatre.  The intention behind it was to provoke the audience into critical thinking rather than getting emotionally invested. Many of the techniques he and others created (actors in multiple roles, episodic scenes, props and costumes visible on stage, etc.…) have been adopted by modern theatre productions, but were cutting edge at the time.
Want More Brecht?
Although Bertolt Brecht was prolific in his output of plays, screenplays, poems and commentary, there are four other plays that you might want to check out as they are more frequently produced: The Caucasian Chalk Circle, The Threepenny Opera, The Good Person of Szechwan, and The Life of Galileo.