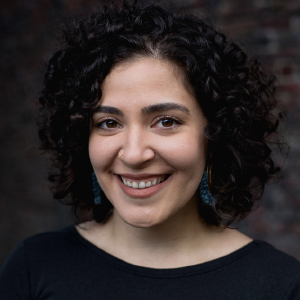 Recently we sat down with Sunam Ellis and Franco to talk about their upcoming projects with us. Sunam is directing the Spanish-English bilingual production of Julius Caesar that will be going on the road with the educational tour this spring, and Franco is adapting the Julius Caesar script for the dual language use. Franco is also directing the Drum and Colours production of Henry IV this spring. We chatted with them about language, the importance of representation, and what stories we still have to tell with classical works.
–
What drew you to the project of Julius Caesar?
SE: I love projects that bring theater to student groups. I remember seeing Much Ado About Nothing when I was in high school and that experience lives with me to this day.
F: I've had the privilege of working on the bilingual educational tour since its inaugural production of Taming of the Shrew in 2017, adapted by Ana Maria Campoy and directed by Erin Murray. The first two years I worked as an actor, the next two I worked as a bilingual text coach, and then the last two years I directed. This tour is really special to me, I've seen the impact that bilingual programming has on kids and communities first hand. To have the space as an artist to try new forms with the support of sharp and thoughtful collaborators is a huge privilege. Plus it's just fun!
What do you think a dual language production layers differently onto our understanding or experience of the show?
F: As artists and people, when we enter a room we bring our whole selves, we can't pull apart these different threads of our identities. So when I enter the creative space, I'm bringing my multicultural background, I'm bringing my queerness, I'm bringing my bilingualism. To me, it just makes sense to add these intersectional lenses to a classical world. Doing so places these stories within a modern context, and allows us to see a more nuanced reflection of our own world, or to wonder at the possibilities.
SE: Yeah, we are in a time where there is a hunger for representation. When audiences look on the stage, they want to see people from the world they live in. We don't all look the same: we don't have the same shapes, interests, cultures, passions, truths, etc. I appreciate that a dual language production allows us to do a deep dive into some of the nuances we have in these differences. Because I don't believe this is just about language. That's just the tip of the iceberg. It's opening the door to different points of view, different conversation styles, different priorities, etc. And then we get to rediscover the show as we shift these variables. 
And it doesn't change the essence of the story. We are still looking at a story that explores power, loyalty, rhetoric, public opinion. But now we can be more specific in how we explore those things. I fully relate to that push and pull of coming from two cultures – deciding what culture to lean into when various obstacles arise. It's complicated, and I think Julius Caesar is an ideal story to hold that layer of complexity.
What do you want the audience to walk away with at the end of Julius Caesar?
SE: We hope to allow the students to use their voices (literally!) during the show. Hoping that involvement will deepen their investment in the story. And that it further punctuates how quickly rhetoric can shift intentions and convictions.
Franco, what is most exciting to you about the team that is building the story of Drum and Colours: Henry IV together?
F: The sheer talent in the room is staggering. I feel so privileged to work with some of the most skilled, dynamic, and generous artists in the city and to be trusted with leadership. There is a huge number of extremely talented BIPOC artists in Seattle and getting to showcase that talent in the context of classical work, and outside of the parameters of the "insert-ethnicity-here show" is extremely important.
How does being an actor impact your POV as a director? And how do you think your directing impacts your role as an actor?
SE: I'm an artist that wants to serve the group of storytellers. As a director, I am more privy to conversations about the world. I will walk into the room with ideas, but none of those ideas are complete until I get to collaborate with the other creative minds in the process. With the creatives, they are definitely more experienced than I am in their field. So I get to trust and revel in what they bring to the table. As an actor, my primary conversation is with the director and my scene partners, so I do a deeper dive into that aspect of the story. And then I look to the director to make sure I am still firmly in the world of the story I'm telling. With the best directors, I feel safe to really explore the world of the character. I get to make big mistakes and learn from them (mistake isn't a bad word). It's a conversation. 
So, as a director, I would love to invite everyone to have a conversation with me through the work. I don't fully know what the thing is, because I need everyone in the room. And I hope they all feel they have the space to create and put their point of view on their piece in the puzzle. That they feel heard and celebrated.
F: The thing that surprised me most about directing when I began to step into it was how lonely it can feel. As an actor, you tend to be cared for and held by your castmates and the creative team. When you're the director, you're taking care of everyone else, and that's hard! It can be a lot of emotional labor. Prioritizing artists over product is central to my rehearsal room practices, and coming to that stance required deconstructing a lot of problematic and oppressive perspectives within myself about what making a successful piece of art means to me. When I was a younger actor I was like "I'm hardcore! I'll do anything! Suffer for the art!" Now, I don't want to make art from that place, and I don't want to be the type of leader who wrings people out for the sake of the show. I want to make art in a container far removed from the suffering that so often inspires it, both as a director and as an actor.
How do you feel about the phrase: Shakespeare is for everybody?
SE: I don't know that I agree with that statement, but that's maybe a matter of taste. There are many things that I can appreciate as technically amazing, but it's still not for me. Still, I don't believe that Shakespeare is only for an elite group of people. I heard once that the problem with Shakespeare is that some people revere the words too much to actually dig in and play. Get messy with it. Another person compared Shakespeare to jazz music. There's a foundational technique to it, but then you need to riff, add your own flavor. I think some people turn away before they get to the jazz part of it.
F: Oh, it absolutely is. The epic stories, the magic, the romance, the political war plays, the silly dick jokes– they're all for everybody. You don't have to like Shakespeare, that's fine, but I loathe the idea of a purist. There is so! much! more! than one way. Don't agree? Fight me. 
–
Click here to find out more about the bilingual Julius Caesar production, including how to book the crew to visit your school.

Click here to find out more about and buy tickets for the all-BIPOC presentation of Henry IV.