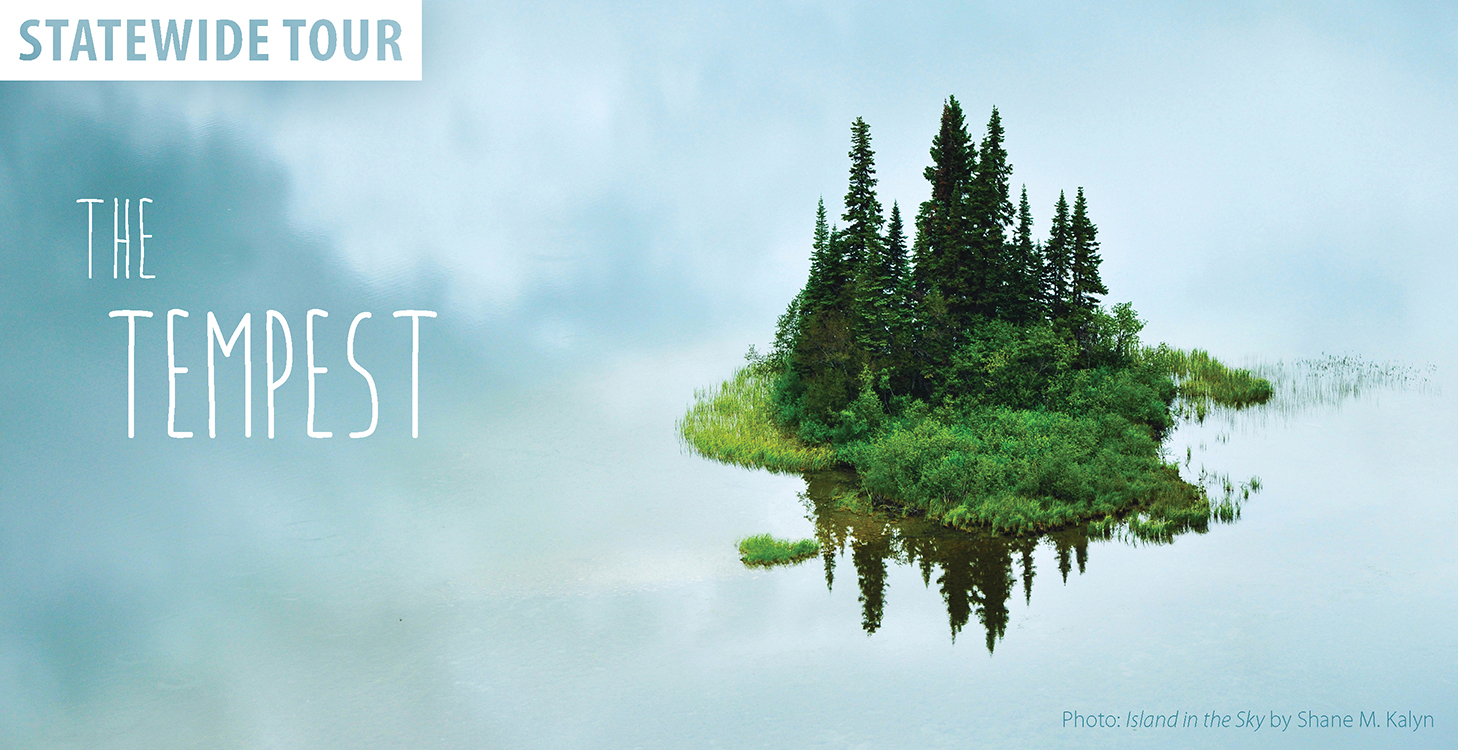 In an effort to make Shakespeare's plays accessible and enjoyable for everyone, Seattle Shakespeare Company will offer an autism-friendly performance of the company's touring production of The Tempest.  Children and adults on the autism spectrum, and their families can see Shakespeare's fantastical play of magic and forgiveness on Sunday, April 17th at 2:00 PM at the Center Theatre at Seattle Center.
To accommodate the unique needs of this special performance, moderate lighting will stay on over the audience during the show. Sound and lighting effects in the show will be toned down to sensory-friendly levels. Parents can take children out to quiet rooms and activity areas any time it becomes necessary – and re-enter when they wish. Support staff will be on hand in the lobby and inside the theater itself. The show is 90 minutes long, including an intermission.
The Center Theatre is on the first floor of the Seattle Center Armory.  The theatre's entrance is on the east side of the building, facing the EMP.  The Center Theatre is ADA compliant, with ground-level access and wheelchair seating. ADA seating must be reserved in advance. Street parking in Seattle is free on Sundays; there are also several paid parking lots and garages nearby.
Special pricing for this performance is $11 per person (all ages) in order to make this experience affordable and fun for families in the autism community.
In The Tempest, directed by Annie Lareau, Prospero and his daughter live as exiles on a remote island filled with enchanted creatures. Conjuring a spell, Prospero summons a storm to carry his brother's ship to his shores. He seeks revenge, but the island has other ideas. Foes become friends. Family reunites. And old wounds heal through forgiveness. Shakespeare's fantastical tale reveals magic and power of the human heart.
Seattle Shakespeare Company's production of The Tempest is part of the company's state-wide touring program that also includes Romeo and Juliet. These productions maintain the beauty of Shakespeare's language and introduce these dynamic stories in fresh, accessible productions for students across Washington State. Small-cast ensembles play multiple parts with quick changes and distinctive character choices that make for a showcase of great acting.
Seattle Shakespeare Company will also have standard public performances of The Tempest on April 15 and 16.