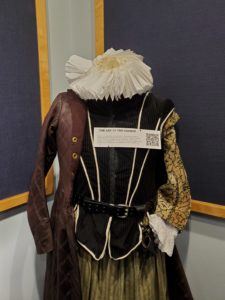 Debra Ann Byrd pulls off many kinds of transformations (age, race, power, vocation, identity, gender…), and even manages to "undo" some categories altogether! This kind of change can be an external shift, an internal one, or perhaps even a metaphysical alteration. In the most beautiful way, in this personal solo-performance story, the theatrical change can also be a manifestation of a true human transformation.
We see the impact of what happens when Debra Ann not only 'takes on' Othello, but also dons his costume, and, in myriad ways, becomes Othello.
As a playful beginning, here is a little peek into the fun (and sometimes harried) craft of a quick change, which can happen in front of an audience or behind the scenes!
On a deeper level, there are rituals and processes of identity transformation, ones like religious conversion, educational matriculation, gender affirming care, citizenship naturalization. All of these express who we are and where we belong. What if identity is not just who we start as, but something that is negotiated between the self and the collective… and then renegotiated?
Identity would seem to be the garment with which one covers the nakedness of the self: in which case, it is best that the garment be loose, a little like the robes of the desert, through which one's nakedness can always be felt, and, sometimes, discerned. This trust in one's nakedness is all that gives one the power to change one's robes.
"The Devil Finds Work". Book by James A. Baldwin, 1976.