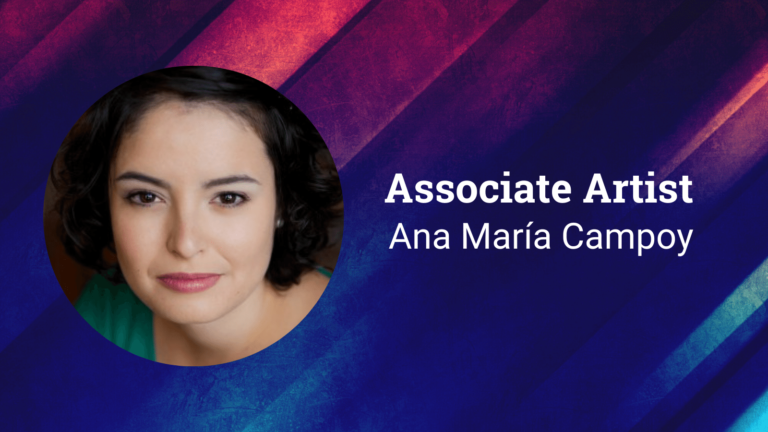 Starting spring of 2021, Ana María Campoy will be the first Associate Artist in a new pilot program at Seattle Shakespeare Company for early to mid-career theatre artists. By creating mentorship opportunities paired with observation and tailored engagement with projects, the new initiative seeks to match professionals who may have been historically marginalized from classical theatre with Seattle Shakespeare's organizational and programmatic interests.
Ms. Campoy's association with Seattle Shakespeare Company began with a Spanish and English adaptation of The Taming of the Shrew for the 2017 spring tour. The successful reception of that production led to additional bilingual adaptions of Twelfth Night, Macbeth, and Hamlet. Ms. Campoy served as director for the latter two; Macbeth was performed on tour and Hamlet, while rehearsed for tour, later became an audio drama due to COVID-19 pandemic restrictions. Seattle Shakespeare's 2021 presentation of Romeo y Julieta was also adapted by Ms. Campoy and filmed for a view-on-demand presentation.
"After such and long and fruitful association with Seattle Shakespeare and so much amazing work done under very challenging conditions, I'm so glad that Ana María will be the first as we develop this program," said Artistic Director George Mount. "She's demonstrated such a commitment to expanding our view of the classics. I'm happy to take her under my wing to help her along on her journey of learning more about being both an artist and an administrator."
A Mexican American theatre artist, educator, and advocate, Ms. Campoy has worked as an actor, director, adaptor, or dramaturg for the Oregon Shakespeare Festival, Seattle Children's Theatre, Book-It Repertory Theatre, Washington Ensemble Theatre, and Pork Filled Productions. She currently is an Associate Artist with ArtsWest. Founder of the all-volunteer, mutual-aid collective, WashMasks, Campoy works with others to provide PPE, support, and advocacy for migrant and seasonal farm workers and their families in Washington state during COVID-19 pandemic.
During her term in the associate artist pilot program from spring 2021 through summer 2023, Ms. Campoy will create a new Spanish/English adaptation of Richard III for Wooden O and will advise on a bilingual adaptation of Julius Caesar for the tour. She will be invited to participate in season planning and budgeting processes, while having opportunities to advise on Community Engagement and EDI, participate in the SEE program, and explore the expansion of programming into other areas of Washington State.
The Associate Artist pilot program will be evaluated after Ms. Campoy's term with possible plans to add additional projects adapted to artists' interests and learning objectives.