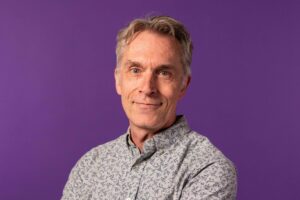 As a friend of Seattle Shakespeare, today I'm sharing with you all that after nearly two decades in various roles, I will be leaving the Seattle Shakespeare staff at the end of 2023. Across those years, 30 summers of Wooden O, and producing over 100 productions, I'm really proud of my accomplishments. And I feel ready to explore new challenges and adventures.
I feel ready to explore new challenges and adventures. I'm also confident in where Seattle Shakespeare is right now. There are some incredible opportunities on the horizon for growth and amazing, inventive programming. I think the company is primed for new visions and dynamic approaches to classic storytelling. And I also hope to still be a part of the SSC artistic family down the line.
Thank you so much for being part of our community. I look forward to seeing you in the audience in the coming months, and beyond.
Regards,
George Mount
Outgoing Artistic Director
What's Next?
Meet Makaela Milburn! In preparation for George's departure, Makaela has stepped into the role of interim artistic director. She joined the staff as casting director in 2019 and became the associate artistic director in 2021, though her first Seattle Shakespeare project was in 2002. In the interim role, Makaela will join General Manager Heidi McElrath in reporting to John Bradshaw, who has moved from managing director to executive director. The Seattle Shakespeare board of directors will begin a search for a permanent artistic director in early 2024.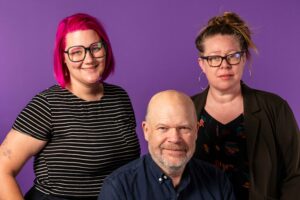 Celebrating A Legacy
George started working with Seattle Shakespeare Company as an actor and teaching artist in the late 1990s and joined the staff as education associate during the 2003-2004 season. Prior to joining the staff, George founded Wooden O, producing free outdoor Shakespeare in parks throughout the region. He was integral in negotiating and overseeing the successful merger of Wooden O with SSC, which was finalized in April 2008. Following the merger, he became the director of outdoor touring and performance until December 2011 when he was named artistic director.
Since becoming artistic director, George has directed acclaimed productions of Shakespeare in Love, Much Ado About Nothing, Henry IV Part I, and A Midsummer Night's Dream, among others. He spearheaded the city-wide Beckett Festival, an unprecedented collaboration of multiple arts and cultural organizations to celebrate one of the most lauded artists of the 20th century. As part of the festival, he directed the modern classic Waiting for Godot, conceptualizing it as if Didi and Gogo were actors who had been performing the same show for so long that their perceptions of fiction and reality blurred. He set Shakespeare's words to music with versions of A Midsummer Night's Dream and The Comedy of Errors. He collaborated with established artists to provide original scoring for productions of The Tempest with music from Jesse Sykes and Phil Wandscher and starring Michael Winters and Much Ado About Nothing with Seattle Repertory Jazz Orchestra.
He has also been a frequent face onstage, appearing in The Winter's Tale, Romeo and Juliet, Titus Andronicus, Twelfth Night, Love's Labour's Lost, A Doll's House, The Comedy of Errors, King Lear, Richard III, and Macbeth. He played Katherine in an all-male production of The Taming of the Shrew, exploring the dynamics at play when both leads are male presenting. He also presented a moving portrayal of flawed monarch Richard II in Rosa Joshi's first production with SSC. He will be back on stage this fall portraying Master Ford in The Merry Wives of Windsor.
In the next few months, we'll be sharing some of our favorite George moments as we celebrate and appreciate the work he has done. Please join us in giving him our thanks!